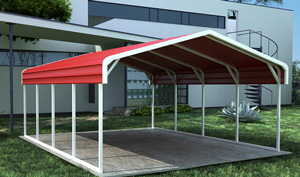 Carport Kits
RV Carports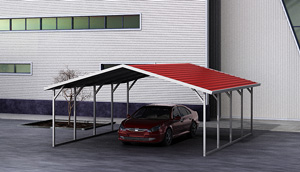 Steel Carports
92 categories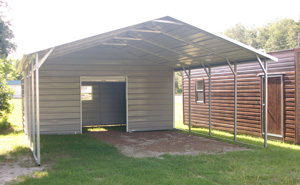 Utility Carport Sheds
14 products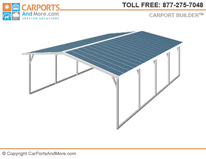 Carports with unsurpassed quality design, and options all at an unbeatable price
Carports and More promises to delivery only the highest quality carport to your home or business. carports can be simple to build, but instead of the hassel our customers get professional carport installation no matter what state the steel carport kit is sent to. Whether its California or New York, your carport will be professionally installed. Installation of your portable carport will save you time and ensure that the carport is installed 100% properly. Our goal is to provide the utmost in quality carports and service to the home or business that is in need of metal carports.
Carport kits are also available in any size that best fits your needs, that means carports and garage kits big and small no matter the size. From cars and trucks to boat docks, our portable carports fit the bill and keep you covered. Our custom car ports have even been used to cover tractors, dumpsters and rock piles in work yards! While you could easily buy car port plans and go through the process of building your own carports, working through carports and more you receive a high quality product that can comes with a 20 year steel warranty.
Carport plans can lead you down a path of time and effort, while our certified engineered buildings made of high quality steel lead you down a path of convenience. Many applications that call for the use of a portable carport have planning requirements that must be met; and our high quality steel Car ports give you the choice of having a certified carport or a non-certified metal kit. This means that whether you need a custom shelter to cover a boat dock or a standard steel carport to cover cars in a commercial parking lot; we've got you covered!Also dont forget about our special utility carport, combining the covereage of a steel carport along with the storage of a shed all in one.
Custom sizes for all sorts of carport applications; 20 year warranty on all 12g steel carports, and the option of a portable carport that could be moved if the need were to arise. Our quality metal carports can be the ideal storage solution for both the busy homeowner and the bustling commercial business. Using the professional installation service, you would not have to worry about putting together car port kits all on your own. With all the benefits a residential or commercial business has to gain through the use of a steel carport; any other choice just doesn't look as good, and definitely isn't as cost effective as our carports.
Metal buildings, and portable car covers around the country
Alabama Alaska Arizona Arkansas California Colorado Connecticut Delaware District of Columbia Florida Georgia Hawaii Idaho Illinois Indiana Iowa Kansas Kentucky Louisiana Maine Maryland Massachusetts Michigan Minnesota Mississippi Missouri Montana Nebraska Nevada New Hampshire New Jersey New Mexico New York North Carolina North Dakota Ohio Oklahoma Oregon Pennsylvania Rhode Island South Carolina South Dakota Tennessee Texas Utah Vermont Virginia Washington West Virginia Wisconsin Wyoming