Metal Garages
15 products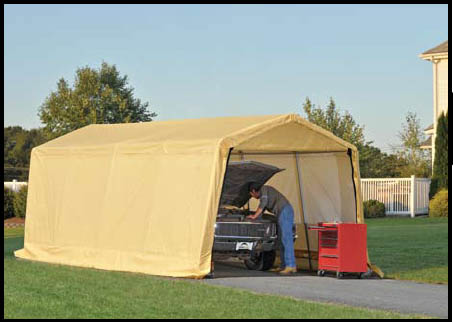 Portable Garages
7 products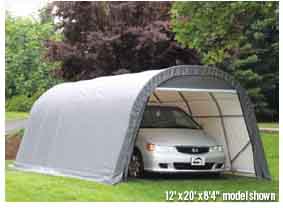 8' - 15' Wide Heavy Duty Garages
37 products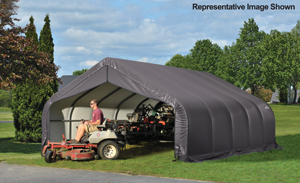 Double Wide Heavy Duty Garages
24 products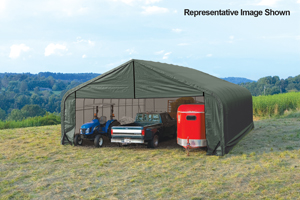 Triple Wide Heavy Duty Garages
6 products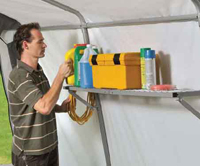 Shelter Accessories
9 products
Garage Kits of all shapes and sizes, use our builder and get a price in minutes.
All of your garage kit needs can be taken care of with the simple purchase of a garage kit. Prefabricated garage kits work well to fill all sorts of residential garage storage needs, from giving you a new home for your cars or trucks or toys to just providing extra garage organization. These days many households spend large amounts of their income on tiny storage spaces. With extra garage storage, families can stretch their budget by ridding themselves of hefty storage fees.
Garage kits are an ideal storage solution for any city in any state. They are quick and easy to construct. Enlist the help of some friends or family and spend a few hours constructing your new portable garage; then spend the rest of the afternoon around the barbeque, admiring your good work. What a better way to spend a Saturday than to give your family much needed garage organization! If being knee deep in elbow grease doesn't sound like something you'd enjoy, we've got a solution for you. Our pre built garages can be professionally installed for you! No matter where you live, Carports and More can arrange for your new garage to be installed by a professional installation service.
Our garage kits come in options that will work for the differing needs of our customers. Pre built garages are made with high quality metal; soft sided garages come in easy to install garage kits. Both of these options serve as a portable garage that can be re-assembled should they need to be moved to a more convenient location. Our soft-sides garage building kits are shipped out daily to worldwide destinations, meeting the needs of those needing garage storage right away. Whether our prefabricated garage kits are used in residential or commercial applications, they fill the needs of our customers 100%. These garage kits come with certified engineered plans that are customized to any states building requirements. This will save you time and hassle when dealing with building codes.
The that can be found on Carports and More come in several sizes, making it easier to find just what you need for your garage storage needs. These metal garages come with a sturdy cover that will resist the effects of sun, wind and rain. What's great about these is not just the fact that they are portable, but also that they are so durable. Putting a prefabricated detached garage on your property covers the cars and toys you've got now; but also promises you room to grow as you acquire more. Our pre built garages can grow as your needs grow.
All Metal garage kits delivered and installed
Alabama Alaska Arizona Arkansas California Colorado Connecticut Delaware District of Columbia Florida Georgia Hawaii Idaho Illinois Indiana Iowa Kansas Kentucky Louisiana Maine Maryland Massachusetts Michigan Minnesota Mississippi Missouri Montana Nebraska Nevada New Hampshire New Jersey New Mexico New York North Carolina North Dakota Ohio Oklahoma Oregon Pennsylvania Rhode Island South Carolina South Dakota Tennessee Texas Utah Vermont Virginia Washington West Virginia Wisconsin Wyoming