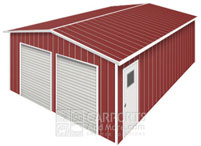 We have detached metal garage kits for sale in a variety of styles that will meet our customers' every need, including both residential and commercial applications.
Both our prefabricated steel buildings and our soft-sided garages are made with high-quality metal frames and come in easy to install kits. Both those options, in addition to our heavy-duty soft-sided shelters, are portable do-it-yourself garages that can easily be re-assembled if they need to be taken down or moved.
All our products are available in a wide range of sizes, but our enclosed, fully metal buildings are completely customizable. From the roof style and the color to the number of doors and windows, you can design your steel garage kit to be just about anything.
In addition to selling steel garage kits, we can supply certified engineered plans that are customized to meet every state's building requirements. This will save you time and energy if you have to deal with building codes in your area.
Garage Kit Variations For Every Application
Our prefabricated modular metal garage kits can be broken down into three distinct categories:
Steel buildings that can be customized for all types of vehicles, and can also be designed with an additional room for a workshop or recreation area.
Heavy-duty prefabricated garage kits that are made with the toughest fabric materials and are made to withstand the most severe weather conditions.
Soft-sided Portable shelters that are made with fabric covers. These are your best option if all you need is a temporary garage shop, and they are our most cost-effective prefab shelter units.
We also sell a wide range of garage kit accessories, such as different types of anchors used to connect your steel garage shop to the ground, as well as roll-up doors and utility shelves.
Regardless how you plan to use your steel garage kit, we have a solution for you. Keep reading to learn more about how you can use all the detached metal garage buildings and portable or temporary parking garage kit variations we have for sale.
Our Steel Garage Building Kits Offer the Most Versatility
Prefabricated metal garage kits fill all sorts of needs for both homes and businesses. Whether you need a new cover for your cars or trucks or more storage for outdoor equipment and toys, a detached garage barn kit is the best solution. It can even be designed with an additional room.
Prefab Modular Garage Shops Make the Best Enclosed Vehicle Covers
Metal garage kits are ideal for covering all types of vehicles, including cars, trucks, boats and motorcycles and ATVs.
In addition, our wide array of customization options make it easy to create garage plans to match the style of your existing home.
All our steel garage kits are available in 12 colors, and we allow you to mix-and-match colors for the roof and the side, gable and end walls, as well as the trim.
We also offer three distinct roof styles for all our metal garage kits: standard horizontal, A-frame horizontal and A-frame vertical. Each roof style has different features.
Standard horizontal: trim only on front and back and a 6-inch overhang on each end
A-frame horizontal: trim on all four eaves and a 6-inch overhang on each end
A-frame vertical: trim on all four eaves, ridge cap, and flush on each end
If you're in need of a steel RV garage kit, we sell those too, including garage buildings kits for class-A, class-B and class-C motorhomes, travel trailers, 5th wheel travel trailers and pop up folding trailers. Our tallest RV garage kits have 12-foot legs, but we can build RV garages as tall as you need them to be. If your RV requires a taller garage height, please contact us.
Frame Options
Our customization options go beyond the color and roof style; we allow you to also pick between a couple different types of metal frames, which are used for the legs, baserails, trusses and corner braces.
When you design your steel garage building, you can select either 14-gauge or 12-gauge galvanized steel tubing. Galvanizing is the process of adding a protective zinc coating to prevent the metal from rusting.
The 14-gauge tubing measures 2½ inches thick and the 12-gauge measure 2¼ inches thick. Despite the fact the 12-gauge is thinner, it is stronger than the 14-gauge by about 20 percent and it includes a 20-year rust-through warranty.
The sheet metal we use for the side walls and enclosed end walls is 29 gauge, which measures approximately 0.36 millimeters thick. It's suitable for just about all weather conditions, and is a much more cost effective option than other, thicker sheet metals.
Size Guide for 1 , 2 car, and 3 car Metal Garage Kits for Parking
Our flexible sizes also allows you to buy a garage building for only one or several vehicles. The number of cars you're looking to cover will determine the width of your garage. We have a few general guidelines for building widths for 1-, 2- and 3-car garages:
1-car stall garages should be a minimum of 12 feet wide
2-car garage covers should be a minimum of 18 feet wide, but can be up to 26 feet wide
3-car parking garages should be a minimum of 26 feet wide, but can be up to 40 feet wide
Keep in mind that these are simply guidelines; there are many other factors to consider when designing your enclosed garage, such as how many roll-up doors and walk-in doors you want, and how much additional storage space you want.
Here are a couple of examples to help illustrate why it's important to consider all these factors from the beginning:
If you want a two-car garage, but you want two individual doors, your garage must be at least 20-feet wide. Each roll up door needs a minimum of 12'' on each side. So two roll up doors would account for 4' extra in total width of the covered parking unit.
If you want a 1-car garage with a walk-in door right next to the garage door, the building width must be at least 14 feet rather than only 12 feet. In this case if you don't have the room for 14' width we would recommend adding the man-door on the side of the unit instead of the front.
There are endless ways to customize your enclosed garage barn kit, but it's important that you know going in exactly what you require - and what you may require in the future.
We Install Roll-up Garage Doors and Create Frame-Outs of All Sizes for custom doors
There are several types of garage doors; what we sell are called roll-up doors, which "roll up" above the garage doorway when opened. The largest roll-up door we sell is 10' feet wide.
Roll-up doors are known for their reliability and durability; the fact they're mechanical as opposed to electrical limits potential operational issues. They also are known for being extremely secure, so no matter what you're looking to keep inside your garage, you can have peace of mind knowing that it's safe.
In addition to installing roll-up doors, we also can create a frameout if you'd like to install your own garage doors over 10' wide. We can create frameouts anywhere between 3- and 20-feet wide.
Easily Use Metal Building Kits for Detached Workshops or Recreation Rooms
In addition to using a steel garage kit as a vehicle cover, it can easily be used as a detached workshop or recreation room. We offer customization options that work for those uses as well.
If you're looking to use your steel garage barn kit as a workshop, you'll need at least one roll-up door for driving vehicles in and out. You'll also want a walk-in door so you can easily go in and out without having to use the roll-up door.
If you're wanting your garage kit to double as a detached recreation room, you can easily put up a partition and separate part of it from the rest of the garage. In that case, you'll likely want to add some windows to let in some natural light.
Detached recreation rooms are the perfect place for a pool table or a ping-pong table. And if you put up a television, it could even make a great spot to watch your favorite sporting events.
Detached Garage Kits With Apartments Are One to Utilize All the Building Space
Not only can your garage plans include a recreation room or storage space; you can go a step further and make a garage kit with living quarters by adding a bathroom, kitchen and other living necessities.
Adding an apartment or a loft to your garage can come in handy in many ways. For example, it can be a private place for family or friends to stay if they're visiting. You also can rent out garage kits with lofts for some extra cash to someone who's looking for an apartment.
The easiest way to incorporate living quarters into your garage plans is to design the garage with the apartment above it. That way, you're able to utilize the garage, as well as the space directly under the roof. You even could separate the loft entirely by adding a walk-in door and staircase that are completely separate from the garage.
Metal Garage Kits Are the Best Alternative to Storage Units
These days, many households spend large amounts of their income on tiny storage spaces. But steel garage kits are an ideal storage solution for any area, and they'll keep you from having to pay those hefty monthly fees.
The best part about using a metal garage building kit for storage is the fact that you can design it with as much - or as little - storage space as you want.
If you're looking to use your garage kit for a couple cars and storing only a few specific items, you can easily customize your garage for that setup. But if you have a lot of existing items in your house that you'd like to move into a detached garage building, you can design your garage so it includes more storage space.
You can even put a partition inside the garage to separate the storage space and add a walk-in door - just like you would with a detached recreation room - for easy access.
Putting a prefabricated detached garage on your property may cover all your existing vehicles and outdoor equipment, but you also can purchase a larger one to allow for additional space in case you acquire more over time. Essentially, our metal garage kits can grow with your needs.
Portable Soft-sided Heavy-duty Steel Frame Garage Kits Offer the Ultimate Weather Protection
The heavy-duty DIY garage kits we have for sale come in several sizes, ranging from 8-feet wide - the perfect size for a small car - to 80-feet wide, which is big enough to cover several vehicles. The wide range of size options we offer makes it easy to get exactly what you need.
In addition to coming in a wide range of sizes, our temporary heavy-duty garages are available in a few styles, each of which is better suited for different applications. Essentially, we have three distinct styles of heavy-duty metal frame garage kits for sale:
Peaked heavy-duty: straight walls with a roof that rises on either side and comes to a point, or "peak," in the middle.
Rounded heavy-duty: a round shape that resembles a tunnel that extends from the ground on either side.
Barn-style heavy-duty: combines features of peaked and rounded kits - its roof is slightly rounded, but the walls are straight.
Although heavy-duty portable garage kits do not include wind and snow resistance ratings, units with a rounded or peaked roof are generally better for areas that experience intense winter weather, as they prevent snow from building up on the roof.
However, if you're looking for something that more closely resembles your house, you may want to go with a peaked roof. And if you want something in between, the barn-style garage kit is your best option.
What's especially great about our high quality temporary heavy-duty garage kits - on top of the fact they're portable - is that they are really durable. And they all come with a sturdy cover that will provide protection from the elements, including sun, wind, rain, snow and ice keeping your valuable items safer.
Our portable soft-sided heavy-duty metal do-it-yourself garage kits include several features that make them able to withstand the most extreme weather conditions. Those features include:
An all-steel Dupont thermostat baked on powder-coated finish that resists rust and corrosion
A patent-pending ShelterLock Stabilizer Block at every rib connection that adds rock-solid strength and stability to the frame
A Ratchet Tite Tension System and Easy-glide Sliding Cross Rails that keep the cover smooth and taut
Advanced engineered, commercial-grade polyethylene fabric that's UV treated inside and out, as well as an ultra heavy-duty PVC cover
Universal steel foot plates for easy and solid connections to ground anchor surfaces, including cement pads and pony walls
The majority of our heavy-duty garage kits fall in the 8- to 15-foot wide range, but we also sell heavy-duty garage plans with a double-wide design, as well as triple-wide heavy duty garages.
Portable Canvas DIY Garage Kits Are an Affordable Way to Cover Your Vehicle
Our soft-sided prefabricated garage kits are shipped out daily to worldwide destinations, meeting the needs of those requiring garage storage right away.
If you're looking for an affordable temporary fabric steel frame garage kit to cover only one vehicle, our portable garage shelters measuring 8- to 15-feet are the perfect solution.
They are extremely easy to assemble and take apart. Not only that, but portable do-it-yourself garage kits require minimal storage space.
That's why portable garage buildings make great temporary car covers for parking. If you own a vacation home that you use only part of the year, you likely need a temporary cover for when you're there. Plus, permanent wood garages require upkeep and maintenance. If they are not maintained, the garage's conditions will degrade over a length of time and it will eventually have to be replaced.
Portable garage kits also are a good option for people who live in areas with moderate climates. If it's mostly hot and sunny year around where you live, you don't need to protect your car from snow or ice, and our soft-sided temporary portable garage kits include a triple-layer, three-way, UV-treated ripstop woven polyethylene fabric cover to protect it from the sun.
In addition, all our garages are made with rock-solid metal frames with bolted roof and pipe connections and a ratchet-tite tensioning system and easy-slide cross rails.
But, possibly the best thing about our soft-sided, 1-car garages is the price point. Our portable garage kits offer a car cover solution for people looking to limit how much they spend on a garage due to their budget or because it simply doesn't make sense to spend a lot of money on a temporary garage kit that's used only part of the year.
DIY Kits Give You Control Over Assembly
One of the best parts about buying a garage kit is how quick and easy they are to construct. If you want complete control over how your garage is assembled, a prefab garage building kit is what you want. We even offer a small discount on DIY garage building orders - the discount varies by location.
You could enlist the help of some friends or family members and spend a few hours constructing your new garage barn kit, then spend the rest of the afternoon around the barbeque, admiring your good work. What better way to spend a Saturday than to build a garage that will be valuable to your family for years?
However, if being knee deep in elbow grease doesn't sound like something you'd enjoy, we can also professionally install your metal garage building kit for you. No matter where you live, Carports and More can arrange for your new steel building to be assembled by an experienced crew of professionals.
Please note that our installation services are exclusively for fully metal buildings. Customers are responsible for the assembly of all soft-sided garages.
Regardless of whether you want to assemble your steel garage kit yourself, or have our team to it, we'll always deliver it to both residential and commercial addresses.
Frequently Asked Questions About Our Steel Garage Kits For Sale
Q: How many people does it take to construct a metal garage building kit?
Although this can be done with one person, we recommend having at least two people on hand to ensure safety. Obviously you can enlist the help of as many people as you'd like however.
Q: If I assemble my garage, will it impact the warranty?
For fabric units it will not, however with the 100% steel units that have a warranty on rust it will.
Q: What type of surface do I need for a garage kit? Does the surface type vary based on whether I buy a metal, portable or heavy-duty kit?
A: You can securely attach it to the ground, as long as it's on a flat surface. Concrete and asphalt slabs are the best surfaces, but you can anchor all our shelters directly into the ground as well. You also can anchor them to pony walls.
Q: Can I add on to my steel garage shop kit after I purchase it? (This includes windows, walk-in doors, roll-up doors and more).
A: If you plan to enclose a carport and turn it into a garage and add walk-in or roll-up doors, the leg height must be 6' or taller. Also, note there may be an extra service charge to add to an existing garage. Please give us a call or send over an email on your specs and we will let you know what's possible.
Our Metal Garage Kit Prices Are Some of the Best Available
We guarantee you the best prices on all the garage kits we sell, including metal and soft-sided buildings. Not only that, but the wide variety of products we stock will ensure you find exactly what you're looking for.
In addition, when you buy a garage kit from us, you'll have access to our knowledgeable and experienced support team to help you through the purchase process from beginning to end.
Large Steel Garage Buildings vs Portable Garage Kit Pricing & Options
Our metal garage kits are priced based on their size, the customers location and how you choose to customize them.
For example, a 24x20 garage workshop building made with 12-gauge galvanized steel tubing with an A-frame vertical roof that includes a couple of roll-up doors, a walk-in door and a few windows is going to cost more than a 14x20 steel garage kit made with a 14-gauge galvanized steel frame with a standard horizontal roof and that includes only one roll-up door, a walk-in door and a couple of windows. Price has a lot of factors like Roof style and overall square footage of the building.
But our portable garage kits have set prices based on their size, although heavy-duty portable carport kits are more expensive, as they are made with more durable materials.
Financing and Rent-to-own Options For Buying Your Garage
We also offer financing options and rent-to-own plans if you choose not to pay for your garage up front. For financing, we'll set up an affordable monthly payment plan for you to pay off the value of the carport - plus interest.
If you would prefer to do a rent-to-own plan, we offer those as well. The way rent-to-own works is similar to financing, except you don't officially own your garage until it's entirely paid off. It's more like paying a monthly rental fee until you've paid off the value of the carport, and at that point, you own it.
Use our designer to customize your metal building and get a price in seconds. Or, if you're interested in a temporary garage kit, check out our pre-fabricated soft-sided shelter units, which are also available in heavy-duty styles made with more weather-resistant materials. To speak directly with one of our sales representatives, call us at 1-877-275-7048.